Slavegirls in an oriental world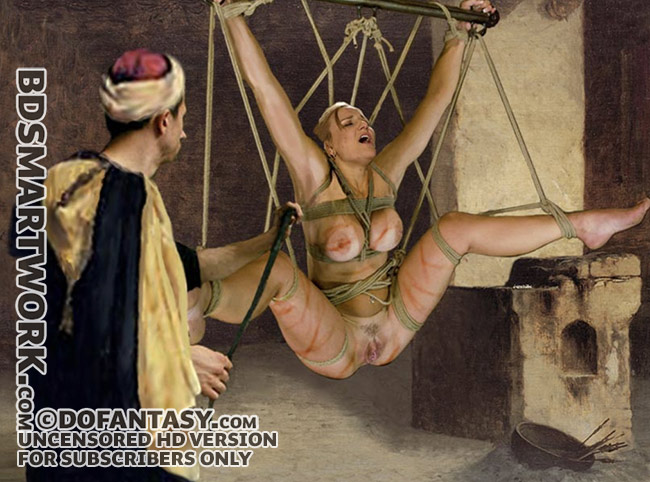 The others laughed. It was true. The slave had not been fucked that day. But she had been fucked every day over and over again on the long voyage back to port. She was popular with the crew because she was a good soft ride on a hard wooden deck.
"If you raise the bar, you can bring her up to a comfortable height for a standing fuck!" Rayan said, and lifted the girl. The sailors laughed as he pretended to fuck her.
"She'll fuck you if the waves are high enough," a sailor said.
"Now you can see her cunt better", Rayan went on. "You can use a thicker rougher rope on it if you want." He held up a length of very rough rope.
"You can pull it up and down between her cunt lips," he said. "It's hairy and it hurts!"
"AAAAAAAAAH!!! No, please don't!" the woman begged.
"Or you can fold the rope in the middle to make it heavier and you can use it, wet or dry, on her cunt."
THWAAACK!
"AAAAAAAAAAAAGHHHHHHHHHHHHHHHHHHHHH!!!"
The sailors all wanted to try. They flogged the girl in pairs, using two riding crops or two lengths of rope.
SLAP! THWAAAK!
"AAAAAAAAAAAAAAAAAAAGHHHHHHHHHHHHHHHHHHHHHHHHHHHHHHH!!!"
Then they all wanted to fuck her, so Rayan lowered her, attached ropes to her legs and pulled the legs up in the air.
"Try that!" he said. "She's just right to be fucked at both ends now. And you can flog her tits at the same time if you want."
One of the sailors said that Rayan had done a good job and he should go first, so he did. From that day on he got first fuck in the auction warehouse.