Wild West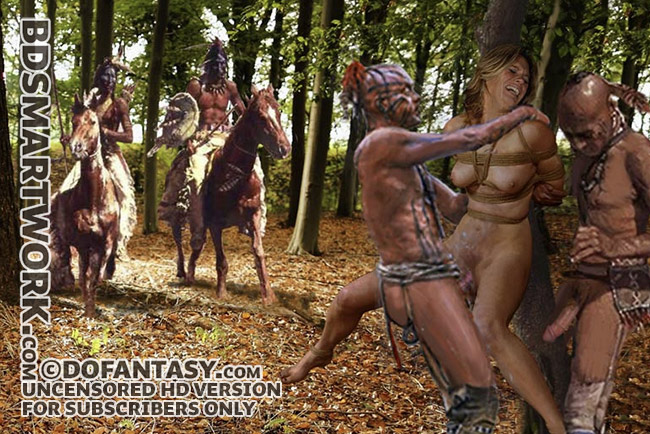 She moved around the circle sucking all the cocks. It seemed to be a ceremony to make the men randy but not to satisfy them.
Every morning and every afternoon a group of four or five warriors took her out of the camp and into the woods. A week later all the men had fucked her.
They did it any way they chose. Some of them tied her to a tree and fucked her there.
"Take cock, bitch! Cock all the way in!"
"NOOOOO!!! AAAAAAAAAAAAAAGHHHHHHHHHHHHHHHHHHHHHHHHH!!!"
They fucked her to hurt her. They pushed their cocks right up to the end of her vagina and tried to hit her womb. They couldn't get into it, but they could sometimes bang against it. In most cases it hurt her.
Sometimes the warriors made her crawl around.
"On fours, like goat!" they ordered.
"Lift arm! Show tit!" They made her walk around on all fours and lift one of her arms to expose a breast. Then they hit the hanging breast with a thin stick, first one breast and then on the other…
SWIIIIISH!
SLAAAAP!
"AAAAAAAAAAAAAAAGHHHHHHHHHHHHHHHHHHHHHHHHH!!!"
Sometimes they fucked her three at a time. One man lay under her and she rode his cock. Another man fucked her in the ass, painfully. A third man put his cock in her mouth and she sucked him until he shot his jism into her. Most of the men couldn't cum with just a mouth job. They needed a firm grip and a good pump on their shafts. Some of them did their own pumping, and others made her do it.