Slavegirls in an oriental world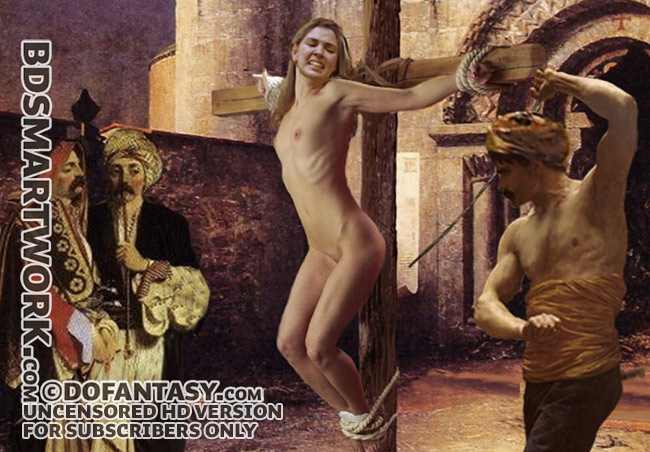 The servant stood in front of her and pulled the crop back again like a coiled spring and released it onto her unprotected nipples.
SLAP!
"AAAAAAAAAAAAAAAGHHHHHHHHHHHHHHHHHHHHHHHHHH!!!"
He did it six times on each nipple. The brothers nodded their approval, slowly.
Then they walked over to the slave and stood on each side of her. They each pulled one of her knees and opened her thighs wide once again. They stared for a long time at her open sex lips. Then they bent down in turn and gave her lips a big, slow lick, moving from the bottom and flicking the tips of their tongues on her clitoris.
They checked that the clitoris was erect and nodded at the servant. He released his tensed riding crop directly onto it once again…
THWAAACK!
"AAAAAAAAAAAAAAAAAAAAAAAAAAAAGHHHHHHHHHHHHHHHHHHHHHHHHHHHHH!!!"
On the third blow the girl wet herself. The brothers licked her thighs and tasted her urine as if it was quality wine.
After the sixth blow she was sobbing. The brothers nodded and the servant released her. He made her lay back over an old wine barrel. She was on her back like a crab with her cunt open and exposed again. The brothers picked up a cat o'nine tails, with knots on the end of stiff leather strips.
They flogged her slowly, taking it in turns to bring the leather down on her exposed cunt lips.
THWAAACK!
"AAAAAAAAAAAAAAAAGHHHHHHHHHHHHHHHHHHHHHHHHH!!!"