Slavegirls in an oriental world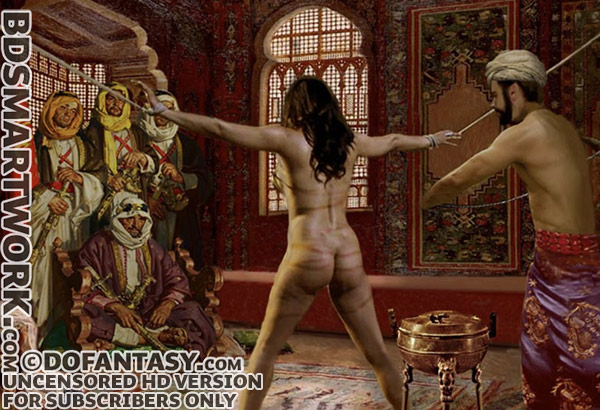 The Sheik wanted his sons to know how to treat and train a slave, so he invited them to watch the first training session.
His slave trainer stripped her naked and made her turn round slowly in front of the men.
"Bend over, bitch, and lift your buttocks!"
The girl obeyed. The men fell silent as she raised her firm buttocks. The deep dark cleft between her cheeks fascinated them.
"Pull your ass cheeks apart! Show my sons your anus and your cunt, slave!
The men fell silent with lust.
"Now face your Masters and show them your tits! Put your hands behind your neck! Arch your back and stick your tits out! Turn left and right! Again! Make your tits move, like a whore!"
The men watched fascinated as her irresistible breasts wobbled and jiggled and settled back into place…
SLAP!
"AAAAAAAAAAAAAAAGHHHHHHHHHHHHHHHHH!!!"
Without warning, the trainer had caught her a stinging blow on the breasts with his riding crop. She had not expected it and she brought her hands down to rub her breasts.
"Nobody told you to do that, slave!" the trainer shouted. "Put your hands back up and stick your tits out again!"
SLAP! SLAP! SLAP!
"NOOOOOOOOOO!!! Don't, please! AAAAAAAAAAAAAGHHHHHHHHHHHH!!!"
The trainer tied her arms out sideways.
"There is only one rule to learn, bitch!" the trainer said. "It is to obey all orders, right?"
The girl nodded.
"This will help you remember!"
He selected a long, flexible riding crop and flogged her all over her naked body.