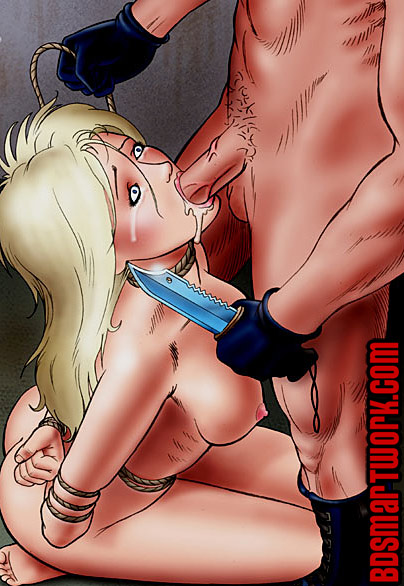 "Now let's try this again," Mason said to the beautiful girl who knelt before him. "What do you want to do cunt?" Karen knew what was expected, "to please my Master any way I can." Mason merely pointed to his crotch. With tears flowing from her eyes, she leaned in and took his prick into her mouth. She could taste her own shit and pussy juice but she did not stop. She began to swirl her tongue around the huge cock as Mason skull-fucked her. Behind her Karen heard a door open…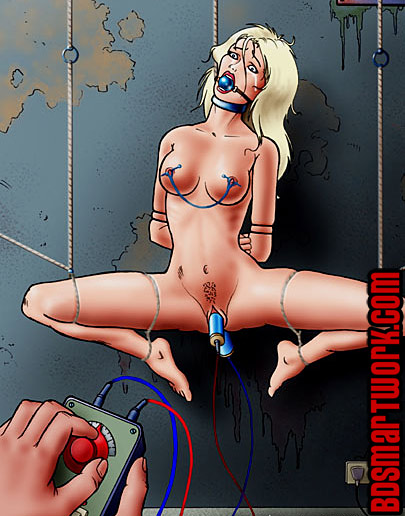 Hanging with her legs spread Karen barely remained conscious. She had to push down with her legs to be able to breath. Mason held two thick electrodes up in front of Karen's face. "Guess where these are going dear-heart. Maybe next time I tell you to suck a dick, you'll think twice before saying you refuse." Mason pressed the first thick electrode against Karen's spread ass. Then, finding the hole, he slowly pushed it in. Karen twisted and fought as 10 inches of cold metal was forced inside. "Don't worry my queen," Mason sneered,
"I have one for your cunt as well." The thick electrodes hurt badly enough as it was, but when Mason twisted the dial, Karen came live. "MMMMMPHHHHGGGGGAAAAAA!" she screamed as the current surged into her engorged cunt and asshole. She jerked and thrashed as every muscle spasmed. "Easy does it bitch!" He laughed, "feel like a good fuck now?" Karen, with tears streaming, nodded her head.