Slavegirls in an oriental world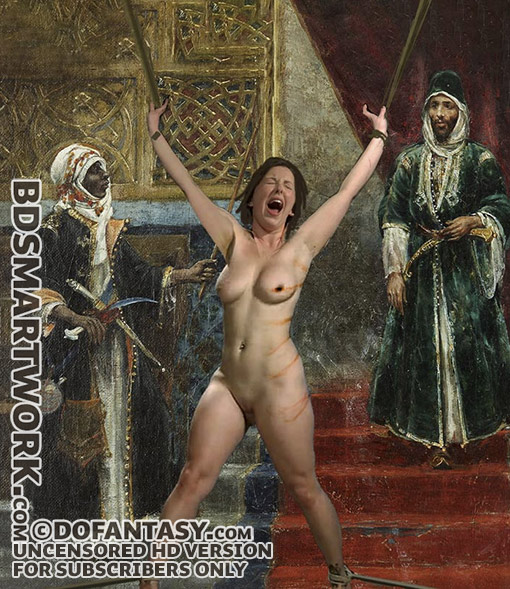 After the meal she was dragged out and fucked by all the guests, two or three at a time. With her head hanging back over the table she was forced to satisfy one guest with a blowjob, another by riding his cock and a third by leaning forward and showing her anus. That was the one that hurt…
"AAAAAAAAAAAAAAGHHHHHHHHHHHHHHHHHHHHHHHHHHHHHHHHHHH!!!"
The next day the Sheik called his slave trainer.
"I will use a stick, Master," the trainer explained. "Big tits need a big stick!
The Sheik nodded, watched and listened…
SLAP! SLAP! THWAACK! THWAAACK!
"NOOOO! PLEEASE! IT WON'T HAPPEN AGAIN, I PROMISE!
AAAAAAAAAAAAAAAAAAAAAAAAAAAAAAAAAAAAAAAGHHHHHH!!!"
"That's enough!" said the Sheik. "Now make her go down like a crab, cunt up!"
The girl was made to push her bottom up off the ground. Her open vulva was now the highest part of her body. The Sheik picked up a cat o'nine tails and flogged it with the leather straps…
"Keep your buttocks off the ground, slave!"
THWAAACK! THWAAACK!
"AAAAAAAAAGHHHHHHHHHHHHHHHHHHHHHHHHHHHHHH!!!"
"Will you behave like a slave at the next banquet?" he asked.
"Yes," she sobbed.
The following week she served at another banquet and everybody took the dates and figs from between her tits and open cunt lips. Some of them fucked her too.