Slavegirls in an oriental world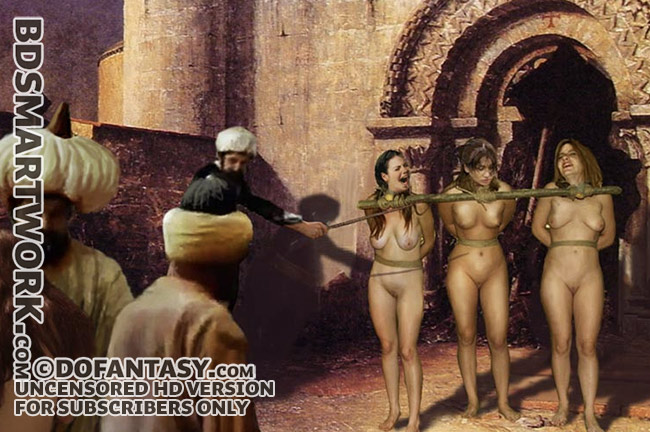 The Sheik called his two servants.
"Fuck the two on the left!" he ordered. The men already had big erections and they didn't need to be asked twice.
"It's time to train you now!" the Sheik told his concubine, who had turned her head away again. "Nobody is fucking the Iberian girl," he said. He ordered two servants to sit her on a table with her legs wide apart.
He turned to his concubine.
"Kiss the slave on her cunt lips"
"I… I don't like women!"
"I said kiss the slave on the cunt! Get your face in there! Use your tongue! Lick her and suck her!" The concubine looked confused and frightened but she obeyed.
As she kissed and licked, one of the Sheik's servants brought his riding crop down onto her buttocks…
SWIIIIISH!
SLAAAP!
"AAAAAAAAAAAGHHHHHHHHHHHHHHHHHHHHHHHHHHHHHHH!!!"
The Sheik let her work away at the girl's vulva for a minute or two.
"Are you sucking her clit?" he asked.
"Yes! Don't make him flog me again, please!"
"Get sucking! And make it wet and noisy!"
SUCK! SUCK! SUCK! SUCK!
The wet noises mixed with the groans and grunts and it all got through to the Sheik.
"Stick your ass up, concubine! Higher!"
He sank his cock deep into her cunt with a quick thrust and soon shot his load into her.
"OH! GASP! NOOOOOOOOOOOOOOOOOOOOOOOOOOOOOOOOOO!!!"