Slavegirls in an oriental world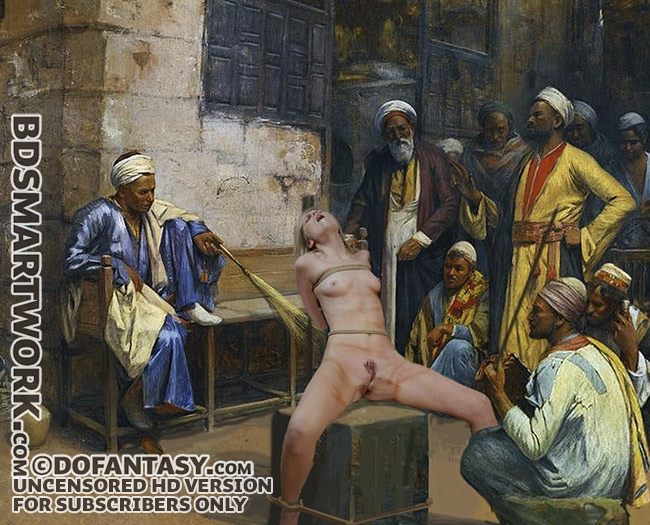 He carried on until her breasts were covered in criss-cross welts.
Then he sent for the Sheik, who came with all ten members of his personal guard.
"The bitch is all yours!" he said. His guards placed her on a low table. One of them lay back with his cock in the air and they made her slide down it, facing away from the man. Then they pushed her back with her legs apart so that her cunt was exposed and another man slid his cock into it. A third fucked her mouth.
The Sheik gave orders for all the members of the Palace household to watch. They began a repetitive chant in rhythm with the men fucking her…
UGH! UGH! UGH! UGH!
FUCK THE BITCH! FUCK THE BITCH! FUCK THE BITCH!
Then the Sheik gave the order to fetch the other female slaves.
"Pick up one of the floggers and flog this bitch! It'll hurt her more if it comes from her companions!"
SWIIIIISH! THWAAACK! THUD!
"AAAAAAAAAAAAAGHHHHHHHHHHHHHHHHHHHHHHHHHHHHHH!!!"
When it was all over, the Sheik spoke to her…
"Will you obey your Master now, slave?"
"Yes, Master," she sobbed.
"Good. In a few days when you have recovered, I will take you into the village. Any men or women in the village who want to fuck you can do so."