Witch hunt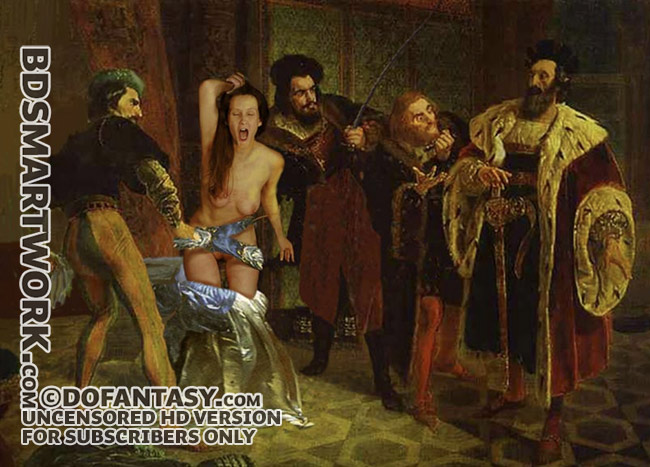 Sometimes the witches' marks took the form of "witches' teats", two extra nipples which were interpreted as being for the devil to suck on. The Inquisition also looked for moles, warts and other marks on the skin. If there were none, they moved on to needles, which they poked into the victims looking for sensitive areas. This was called "pricking a witch".
If no sensitive areas were found, torture was used, sometimes fatally. One method was to pour hot fat onto the woman's body, including into her vagina.
King James liked to examine women in private. The Countess had been accused of witchcraft by a rival in the court and James ordered her to be stripped. There were no marks on her body, but a wild-eyed priest was insistent…
"But Your Majesty! You must see that she is a witch! Behold her naked breasts and her sinning vulva! Can you not feel the Evil One working inside you? Does your member not grow hard?"
King James had an erection but kept quiet about it. If it was the Devil's work he did not want to admit it.
"No," he said. "Perhaps you are mistaken. Jailers, take the Countess to the cells for the night and in the morning tell me what you have discovered."
The jailers took her away. They tied her to a column with her arms above her head and they flogged her breasts with a riding crop…
SWIIISH!
SLAAAP!
"NOOOOOOOOOO!!! AAAAAAAAAAAAAAAAAAAAAAAAGHHHHHHHHHHH!!!"