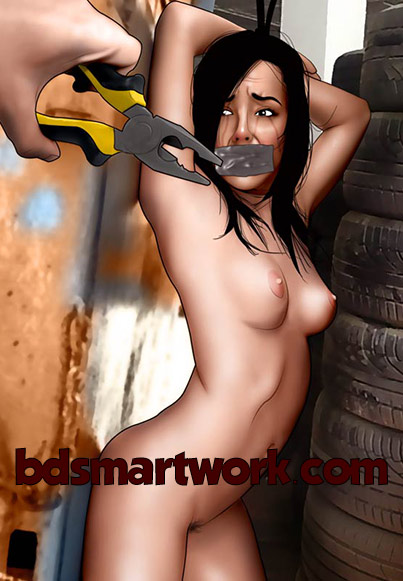 Christine fancied herself a horror-movie director, and in preparation for filming her own amateur movie, decided to scout out an old abandoned industrial garage. She brought her boyfriend, who served as her cameraman with her. Unfortunately she discovered the garage wasn't as abandoned as she'd thought…
"Please, let us go! Can't you see he needs help!?" Christine sobbed as the masked maniac finished tying her boyfriend to an old rusted girder. He was unconscious from the vicious blow from the tire iron the maniac had introduced himself with.
"Shut up! Now, you either do what I say, or I tie you up and make you watch as I take apart your pretty boyfriend here piece by piece." The maniac said. "Now strip!"
"Okay! Okay! Just please, don't hurt him!" Christine said, her entire body quivering like a leaf as she began to pull her clothes off. Soon her petite body was stark naked, her nipples immediately becoming hard and erect in the frigid air of the garage.