Slavegirls in an oriental world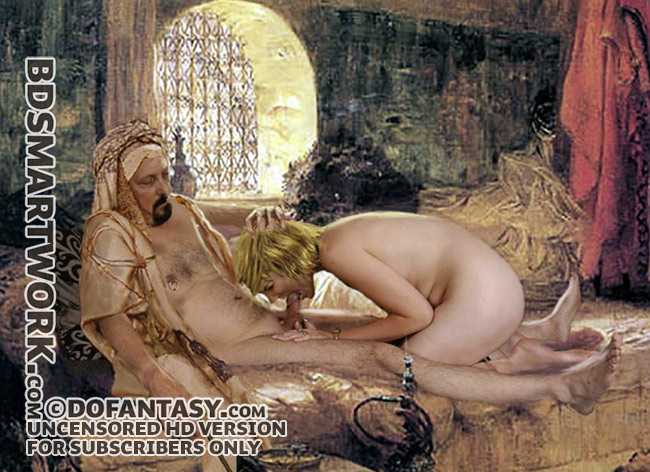 The Sheik filled her with his semen and covered her face and breasts with it. He fucked her day and night for the first week or two and then began to lose interest.
If he went to sleep when his slave was sucking, his personal guard had orders to take her to the slaves' quarters. Instead they took her to their quarters and fucked her.
She satisfied five men at a time by riding one, lifting her buttocks for another to fuck her in the anus and giving a third a blowjob. The two remaining guards put a bench under her chest with holes for her breasts to hang through. This left her hands free to give them a hand job.
One day the Sheik woke up and went to the slaves' quarters. He heard shouting and groaning coming from the guards' quarters. He went there and found all five guards fucking his slave.
SUCK! SUCK!
"UGH! TAKE GOOD ROMAN COCK, BITCH!"
The Sheik smiled. He ignored the men and spoke to his slave.
"Do you like what these men are doing to you?" he asked.
"No, Master. I hate it! You are my Master. Only you can have my body!"
"It is good that you do not like it!" the Sheik said. "Your disgust will make my pleasure greater!"
The Sheik sat down and watched. The look of disgust on the girl's face made him horny and his hard-on grew until it was about to explode.