Chinese torments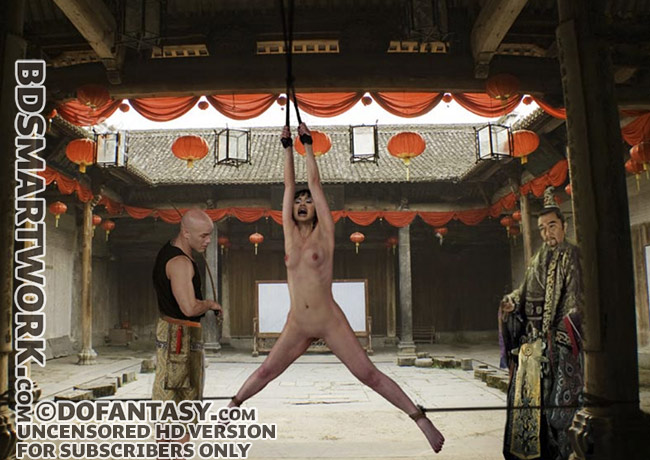 The local landowner had watched Jiao grow up on one of his farms. On her eighteenth birthday he decided that she was ready to please him. Jiao's father owed him money and he proposed a deal. He would forget the debt in exchange for a month with her.
"Take all your robes off," he ordered as soon as he reached his house.
"No, sir! I won't do it! And my father shouldn't do this! I'm a woman, not a sack of rice!"
The man called his son and the son stripped Jiao naked. The father opened his robes.
"Come and suck me!" he said.
"No, sir! Give me my clothes, please!"
"That would be a pity! My son and I want to see you naked, bitch!"
She turned her back on them both and covered up her breasts and her mons veneris with her hands. The son laughed.
"It's a rope job," he said. They suspended Jiao from a rafter and pulled her ankles apart.
"Pee for us!" the father said. "Wet the floor!"
"NOOOOO!!!"
"Give her six swipes on each buttock, son! If she hasn't peed, give her six on each tit!"
SWIIIIIISH!
SLAP!
"AAAAAAAAAAAAAAAAAAAAAAAGHHHHHHHHHHHHHHHHHHH!!!"
The son counted out twenty-four stinging blows and she still hadn't peed. They gave her water to drink and came back an hour later.