Chinese torments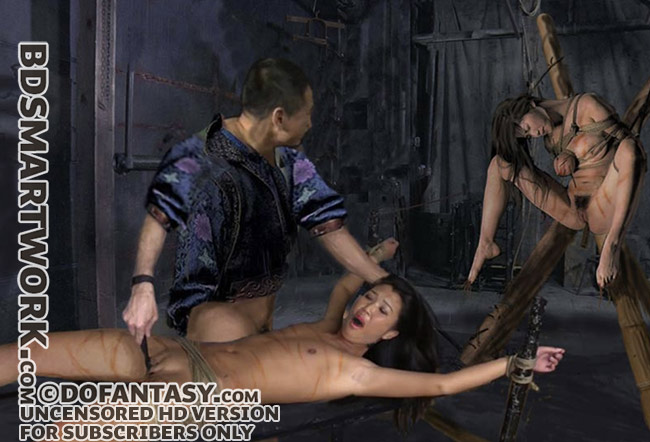 He liked his cunts bald and he liked his cunts shaved too. So when he had sex, which was every day, he liked to see a mons veneris with a thick bush on it, and he also liked to see another one that was shaved.
He liked tits too, so if a girl had big tits he tied her vertically, just leaning forward a bit so that he could see how they hung…
Quiang began his sessions by flogging both girls with thin bamboo canes…
SWIIIIISH!
SLAP! SLAP!
"AAAAAAAAAAAAAGHHHHHHHHHHHHHHHHHHHH!!!"
"AAAAAAAAAAAAAAAAAAAAAAAAAAAAH!!!"
Today he was angry with the vertical girl.
"You're a lazy fucking bitch! You can do some work now! You haven't done any all day!"
He pushed six iron needles into one of her breasts and then he fucked her in the cunt.
When he finished he moved over to the other girl and picked up a brush that he used for brushing silk. It had hard hairs made of pig's bristles. He brushed the girl's clitoris with it until she was gasping and near orgasm. Then he released her.
"Get your face into that bitch's thick bush!" he ordered. "Lick her and suck her. Make her cum! Lots of times! And make it wet and noisy too!"
The girl walked slowly across the room. She leaned forward and put her hands on the thick bamboo uprights. She licked and sucked the other girl's cunt lips and clitoris, forcing her to have orgasm after orgasm until both girls were exhausted, one from too many orgasms and the other from an aching jaw.
All this time Quiang sat back drinking sweet rice wine and listening to the moaning and groaning and the soft wet noises of well-licked sex lips.
It was his way of relaxing in the evenings…