Roman Decacence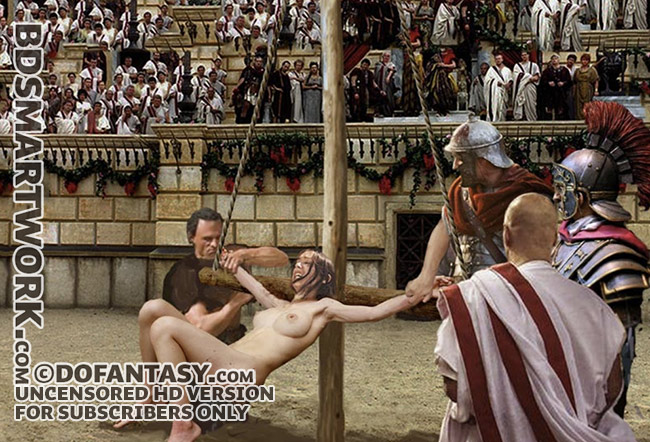 First the riding crop came down on her naked breasts, followed by a cat o'nine tails with its hanging leather straps containing small pieces of bone and metal. Then came a heavy wooden paddle, a whip, a leather belt and a bamboo cane…
The wife screamed as the instruments came down on her buttocks and her thighs and bit deep into her skin, marking it.
When he finished, the servant looked at the husband for instructions.
"You've forgotten something," the husband said. "You've forgotten the bit that interested you most, her cunt!"
He gestured and the guards took hold of the wife's feet and pulled her legs up and wide apart, leaving her vulva open and defenseless.
"Use all the instruments again! On the whore's cunt!" the husband said.
SWIIISH!
SLAP! THUD! THWAAACK! CRAAACK!
"AAAAAAAAAAAAAAAAAAAAAAGHHHHHHHHHHHHHHHHHHHHHHHHHHHHHHHHH!!!"
The wife was taken down and lay sobbing on the sand. The guards stripped the servant and tied him to the cross.
"Get up, you stupid bitch!" the husband shouted at his wife. "It's your turn now! Use all the flogging instruments on his genitals!"
The wife had no choice. She flogged her lover till he fainted.
"Fuck her!" said the husband to the gladiators. They made her go down on all fours, doggy style, on a wooden platform.
"Lift your butt, bitch!" the husband said.