Wild West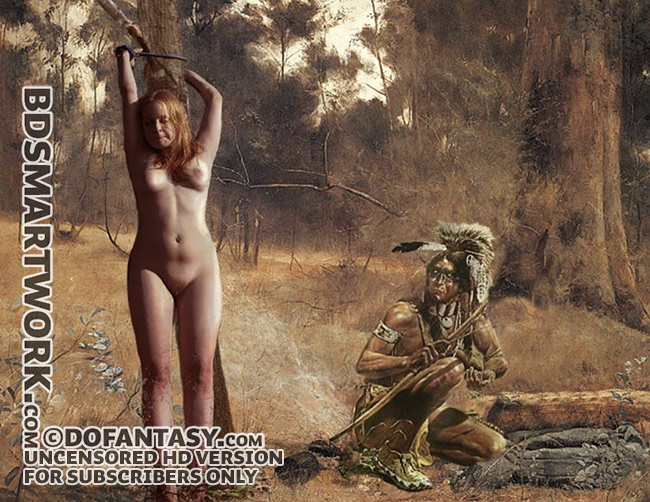 Sally had been out walking in the woods. It used to be safe to do this, but recently there had been trouble with the native Americans, who accused the settlers of raping a woman in their tribe.
The chief of the tribe was out hunting when he saw Sally. She was young and beautiful and he loved her red hair. He wondered if her hair was red over her cunt and he pointed his arrow at her.
"Take clothes off! All clothes!" he ordered.
Sally obeyed, trembling. She covered up her vulva with one hand and her breasts with the other.
"Hands down!" he ordered and she dropped them. She looked irresistible with her mixture of shyness and fear.
The chief tied her to a tree. He wondered if he should take her back to his camp to be fucked by all the tribesmen, but he decided to fuck her himself.
"Your people fuck my woman! I fuck you! I punish you!"
"I haven't done anything wrong! Let me go, please!"
The man cut a long swishy stick and removed the leaves.
"I punish!"
SWIIIISH!
AAAAAAAAAAAAAAAAAAAAH! NO, PLEEEEAASE! NOOOOOOOOOO!!!"
He flogged her breasts with the stick, leaving deep welts across the soft young flesh. Then he turned her sideways and flogged her buttocks…
SWIIIISH!
"AAAAAAAAAAAAAAAAAAAAAAAGH! Don't hurt me, pleeease!"