Roman Decacence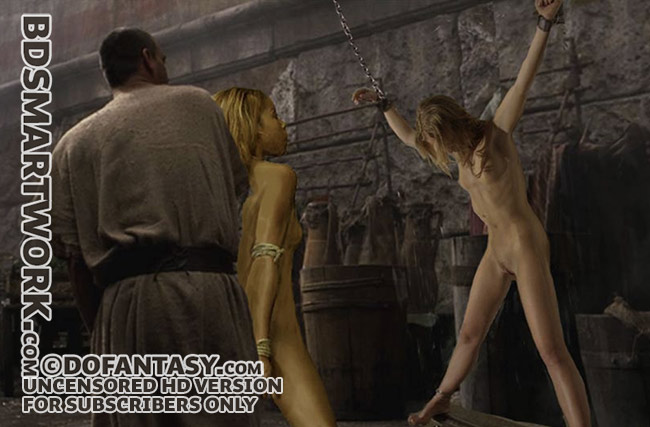 The customer had asked for them to be trained. The trader hung them both in ropes and brought a selection of flogging instruments: a leather belt, riding crops, cat o'nine tails with hanging leather straps, bundles of twigs tied together, wooden paddles for making butter and bamboo canes which cut into the skin. He also had a small collection of metal clamps which could be tightened on breasts and nipples, or attached to belts and used to squeeze cunt lips together.
SWIIIISH! THWAAACK!
SLAP! SLAP!
"AAAAAAAAAAAAAAAAAAAAAGHHHHHHHHHHH!!!"
AGH! AAAAAAAAAAAAAGHHHHHHHHHHHHHHHHHHHHHHHHHHHHHHHH!!!"
The more he flogged, the hornier the slave trader got. After a time he couldn't stand it anymore. His erection was bothering him too much. He took both girls to an area where he had big wooden barrels, cut in half and fixed to the ground.
"Sit on those barrels and let your arms and legs hang down like table legs!" he ordered. He fixed their wrists and ankles to rings set on the floor.
"That's the way a slave should be," he said, "with her cunt up in the air, ready to serve her Master!"
The girls were now completely helpless. They knew that their cunts were the highest parts of their bodies and that their cunt lips were open and defenseless against flogging devices.
The trader picked up a heavy leather belt and brought it down onto their cunt lips.
SMACK!
"AAAAAAAAAAAAAAGHHHHHHHHHHHHHHHHHHHHHHHHHHHHHHHHHHHH!!!"
"Who does your cunt belong to, slave?"
"To my Master!"