Roman Decacence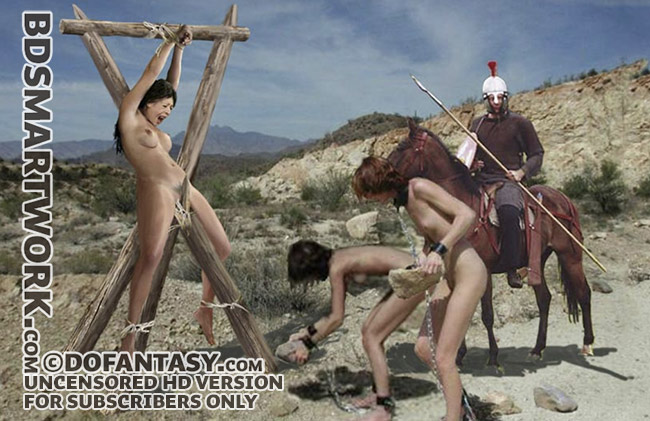 The soldiers made the slaves walk naked in the hot sun. The girls walked slowly, which annoyed the soldiers. Two cavalry soldiers trotted behind the slaves, putting the ends of their lances into their butt cracks and laughing…
"Your butt cheeks are jerking up and down like my horse's rump!" one of them said.
To punish the girls for walking slowly the soldiers made them pick up rocks and carry them. On the way back to camp they came to a cross where they had left an Asian slave earlier that day. The girl was cramped and in pain because her cunt was pressing down onto a lance head.
"Put the rocks down now, bitches!" a soldier ordered. "Take these riding crops and flog this whore for us!"
SWIIIISH!
SLAAAP!
"AAAAAAAAAAAAGHHHHHHHHHHHHHHHHHHHHHHHHH!!!"
The soldiers took their cocks out and pumped until it all became too urgent.
"I can't wait!" a soldier said. "I need a good hard fuck."
They released the Asian slave and took all three girls to a flat rock.
"Get your tits down on that, whores, and show us your assholes! Higher! We wanna see your cunts too!"