Roman Decacence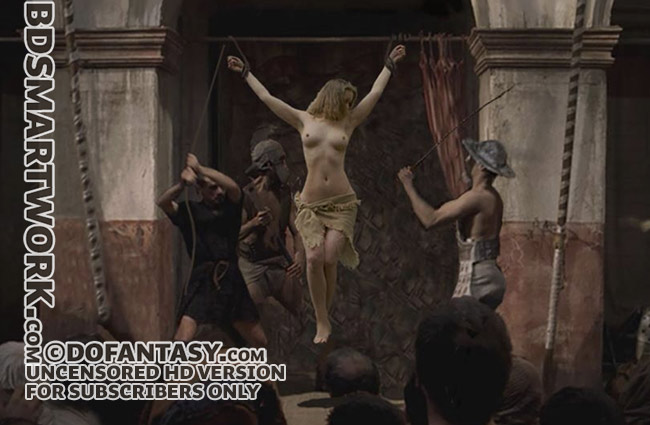 There was a murmur in the crowd.
"And she hid knives in trees and stabbed the man who was fucking her!"
The crowd grew angry…
"Flog the bitch!"
"Use a riding crop on the slut's tits!"
"Is she a good fuck? We want a demonstration! HAHA!"
"How does her skin take the crop?"
The auctioneer smiled.
"Pull the rebel up!" he ordered. Two guards appeared and took up position, one in front of her with a long riding crop and another behind her with a long wooden paddle.
SWIIIISH!
SLAP!
"AAAAAAAAAAAAAAGHHHHHHHHHHHHHHHHHHHHHHHHHH!!!"
The cruel crop came down onto her naked breasts again and again, covering them with red lines.
"Show us the rebel's cunt!" someone shouted.
The auctioneer tugged on the rough sack and pulled it off. She had a prominent well-rounded mons veneris that caused many of the men to lick their lips…