Witch hunt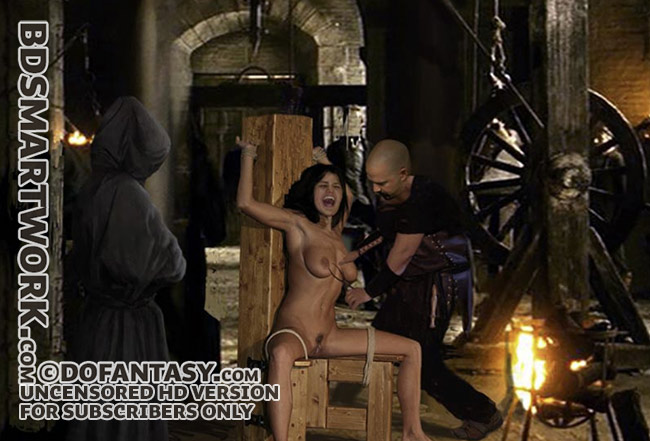 The Abbot smiled and thought for a moment. He knew of the landowner's interest in the girl and he knew too that the landowner was a generous donor to the abbey.
"Do you think it's necessary? We could carry out some preliminary investigation ourselves."
The landowner smiled.
"I'll look forward to that," he said.
"She can be arrested and tortured without being permanently harmed. It will be good for her soul. She seldom comes to church. It will encourage her and keep her on the true path. You can be there with a hood over your head and a veil over your face. In return, you will provide funds for the maintenance of the Abbey."
The landowner smiled and agreed.
A week later Brenna found herself in the Abbey, tied to a wooden column and with her legs wide apart. To make it more discreet the Abbot had called a jailer from a nearby town to work on her.
Brenna's lovely breasts were naked and defenseless. Her clitoris was fully exposed. At first when they tied her legs apart her cunt lips had stuck together and the jailer had carefully separated them.
The landowner stood next to her, watching as the jailer closed his pliers around one of Brenna's nipples…
"Tell us the truth, witch! Do you walk with the Devil at night? Does he take the form of a goat?"
"NO! I have a goat! It's my goat! Ask anyone in the village! I get him in from the fields at night!"
The jailer squeezed her nipple hard.
"AAAAAAAAAAGHHHHHHHHHHHHHHHHHHHHHHHHHHHHHHH!!!"
He squeezed the other nipple too…
"AAAAAAAAAAGHHHHHHHHHHHHHHHHHHHHHHHHHHHHHHH!!!"