Chinese torments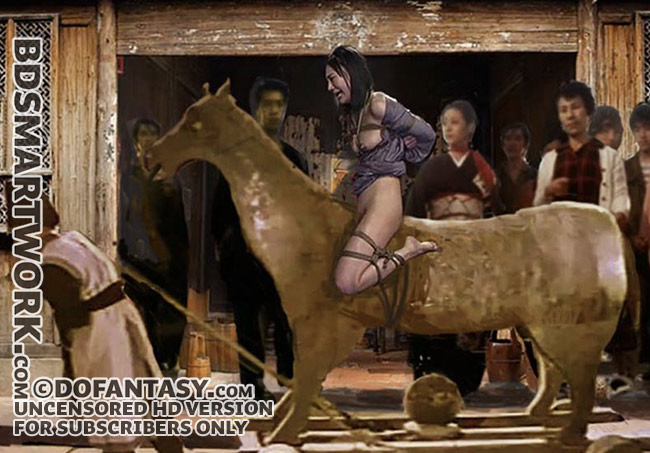 On this day, Bao Chen felt the need to lift the spirits of his subjects because they had lost so many soldiers in battle. A regular war prize would not suffice, he needed the citizens to understand what great things they could accomplish, and who better to show them that than the erstwhile princess of the vanquished kingdom of Humi, and his own personal plaything.
Xiao Mei, was dressed in an ill-fitting shirt, bound, and placed on a brazen, wheeled horse. As she was led through the streets of Dungki, the men looked at her with pure lust which made her skin crawl. Some of them were daring enough to approach her and pluck at her aching nipples. Xiao Mei cried silently from embarrassment and pain.
Later on, when the parade had ended and the citizens seemed to be in positively high spirits, Bao Chen took Xiao Mei to the hall where the government official met to discuss a new pillaging strategy. In the hall, she was ordered by her master to kneel under the table and please the men with her mouth as they discussed. Each men got their release, and were eager for more. When the meeting ended they all took turns ramming her pussy which had been rubbed raw from the ride round town. They were each pleased to watch her cunt dripping with their semen and her blood.