Slavegirls in an oriental world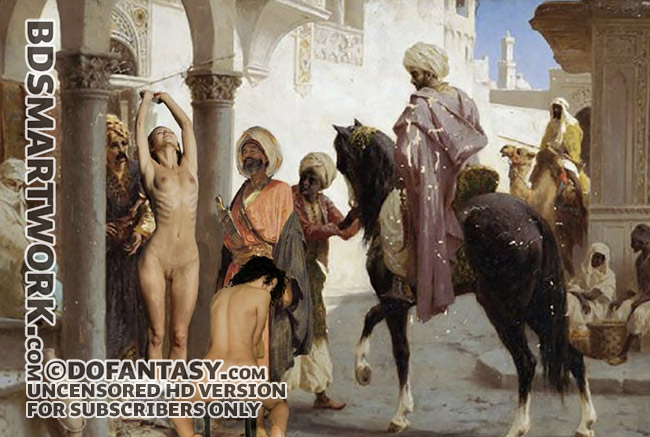 The Prince watched fascinated as her breasts trembled and settled back into place.
"She is beautiful", the trader said. "Many men will live and die and never see such beauty! They will never feel such nipples in their mouths! They will never sink their hard cocks into such a warm, wet cunt as hers!"
The Prince said nothing. He was lost thought and his jaw hung open.
"Is she a virgin?" he asked finally.
"No. I have trained her myself and I have fucked her myself. She was shy at first, but I made her dance naked in front of my workers. I made her suck and fuck the men and lick the women. We have filled her with semen lots of times and I guarantee she will fuck her Master and her Master's friends. She refused at first, but now she knows the consequences of refusing!"
"Can I see her work on another woman?"
"Of course."
The trader released the other girl and tied her arms back behind a pillar. Then he turned the chair round so that the seated girl's face was close to the other girl's vulva.
"Lick! Lick and suck!" he ordered.
The girl obeyed. She slipped her tongue in and licked the clitoris with long, heavy strokes followed by quick vibrations with the tip. She waited until the girl was swaying and moaning softly and then she started sucking. She made loud sucking noises so that the men could hear her.
"Will she cum?" the Prince asked.
"Use your finger if you like! Help her!"