Slavegirls in an oriental world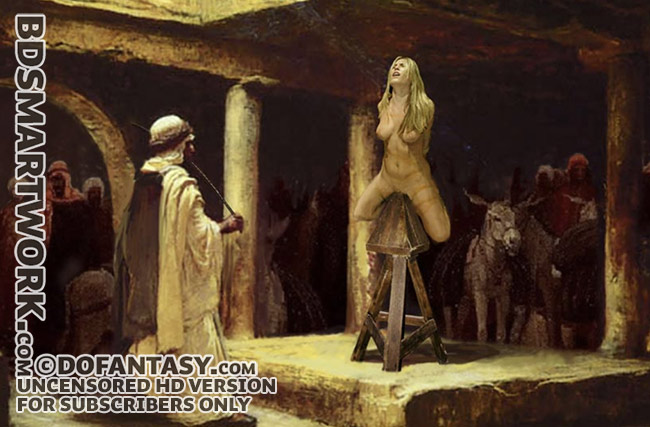 He asked if he could examine her and he took her to a back room.
"Lie back on the bed and show me your cunt, Viking!"
She obeyed. She had a big cunt and a big anus.
"Your men have big cocks, I see," he said.
"Yes. Very big."
He put three fingers up her vagina and sniffed them. It was a rich, healthy smell. He caught her clitoris between his thumb and forefinger and rubbed it. She gasped and pressed herself onto his fingers. He fucked her and listened to her loud shouts and gasps and screams. He took her to orgasm and was impressed by her spasms and the way she showed the whites of her eyes and then seemed to faint.
Most of the other customers were poor villagers and Wallid bought her cheap. He was a cruel man and he thought the best way to treat this highly-sexed woman was by denying her an orgasm.
He had half of a large wooden barrel in his house. His servants made her sit on it like a crab, looking up. They tied her arms and legs to rings on the floor so that the highest part of her body was her cunt.
Then he licked her almost to orgasm, but every time she was nearly there he flogged her breasts with a bamboo cane.
THWAAAACK!"
"AAAAAAAAAAAAAAAGHHHHHHHHHHHHHHHHHHHHHHHHHH!!!
No, please! Let me finish, please!" she begged.
"Your cunt belongs to your Master. He decides when you can cum, bitch!"
Wallid told his friends and they all wanted to lick her. Some of them fucked her too, but Wallid never let her finish. He loved the way she looked, flushed and red in the face, with pink marks all over her neck and chest, panting, desperate to cum…
At night he kept her arms and legs chained away from her body because he didn't want her touching herself or squeezing her thighs together.