Chinese torments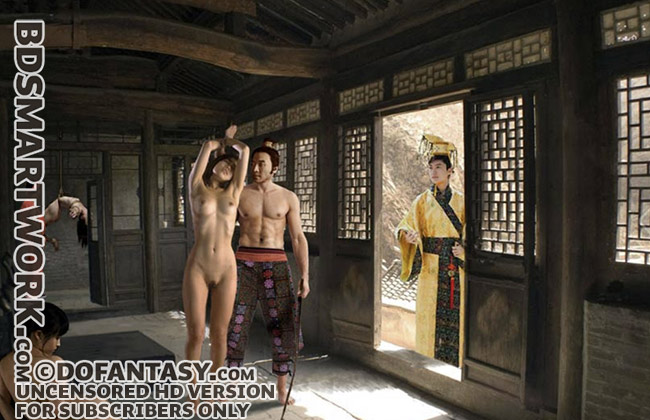 One fine morning, with the birds singing and the water pools and fountains trickling, Prince Qin Qing woke up with a craving in his heart. "I wish to hear a pretty songbird sing today," he said to his royal attendants. The cruel and sadistic guards grinned to themselves… fully aware of what Prince Qin Qing wished for. "Of course, your majesty! We must nurture your mind and body for the good of the empire!" The prince and his guards walked to a remote house in the gardens, one which only the royals and their attendants could approach under pain of extreme death…
The poor, virgin girls inside could hear the approach of the prince, and they already began to blubber and piss themselves in fear!
Pretty sisters Yu Mei, Yu Jun, and Yu Cai huddled together in their nakedness, their slender wrists throbbing from the rough, hemp rope. Confused and frightened, the girls had been lured away from their distant village with the promise of coin and prestige from waiting on the delicate ladies of the court. When the "matron" who hired them insisted on inspecting their feminine parts for purity and cleanliness, the naïve, village girls had no idea what was in store for them.
Prince Qin Qing smiled as he beheld his newest "songbirds" huddling together in the corner, whimpering and mewling like baby kittens. "Ah… such pretty little birds! How I wish to hear them sing! Guards… if you would please attend to my humblest needs, I would be ever so grateful."
The cruel guards laughed as they ripped the screaming sisters apart and bound them tightly with hemp rope, spreading their arms and legs so that the poor, virgin, village girls were completely exposed and helpless! "Please! There has to be some mistake! We were supposed to be maids!" the poor, blubbering bimbos begged. "You can't do this to us! It isn't right!" another wailed.