Chinese torments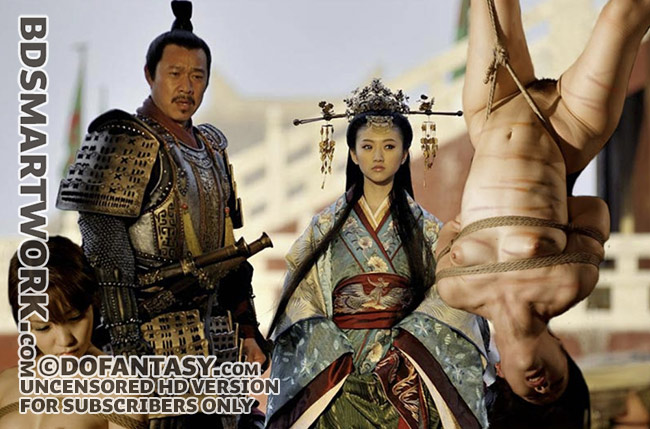 As the rebellion started to intensify across the Chinese Empire, the powers that be pushed back against the ignorant people's rebellious tendencies. The Pearl Princess was one such government official when her dear, drunken dad mysteriously fell to his death from the palace balcony. Pearl Princess Fan Yong heard from her advisors of the terrible atrocities that were being committed against the aristocracy and the ruling class across all of China, and she would have none of that happen in HER province! She quickly set the captain of her guard to the task: use imperial spies to root out any dissenters and then make an example of them so that no rebellion would take place!
It didn't take long to find "treasonous intent" in the local bars. Drunkards with loose lips lubricated by rice wine made easy targets, and their families were quickly rounded up for treason and sedition! The menfolk were quickly beheaded, while the womenfolk were taken and stripped to be inspected. How they pleaded and begged the Pearl Princess for mercy. "We've done nothing wrong! We would never betray our beautiful and perfect princess!"
Unfortunately for these lovely ladies, the Pearl Princess was unmoved. "Your family has been found guilty of treason and rebellious tendencies, so you are equally stained as well! We are merely ensuring that the Mandate of Heaven does not fall due to unworthy blood! You filthy, peasant girls will be sold at market to be sex slaves to the highest bidder!" The women wept and wailed at their fate as they were carted off to be inspected like meat, their beautiful, perky breasts and prime pussies fingered and pawed by lewd and licentious men…
But the least lucky were two drop dead gorgeous daughters, sisters of a particularly loud mouthed drunk, for the Pearl Princess was a secret lover of slit as well! She chose the most beautiful of the Chinese maidens to keep for herself… and she would put them through their paces, ensuring they were striped like tigresses by the whip and the bamboo cane!