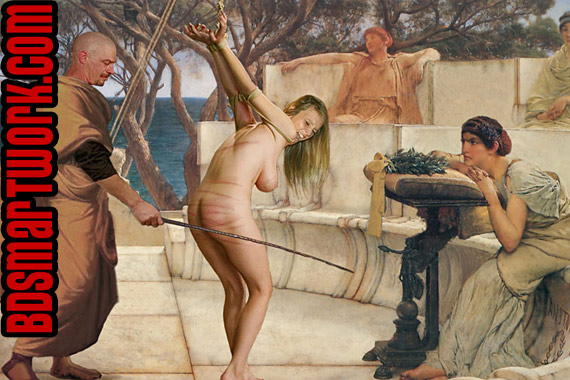 "Make her dance for me please Oppius," said Domnina smiling.
The old slaver smiled and began to slash the defenseless blond across her ass and backsides. Primilla's screamed and thrashed around in her painful bondage. Her young full breasts swung and bobbed lewdly from side to side and she leapt about wildly trying to avoid the next swing of the rod.
Domnina laughed and clapped at the frantic reaction of the young girl she had just purchased. Oppius, although he had sold hundreds of young girls into the hands of owners both kind and cruel, was particularly fond of Primilla's youthful beauty. This fact was evinced by the full thick bulge against the front of his robes.
"I see your desire for this young bitch," Domnina said with a little smile, "please satisfy yourself dear friend. Consider it a bonus for your years of good service. But only take her ass. I will break her maidenhead with my burrowing fist later this evening."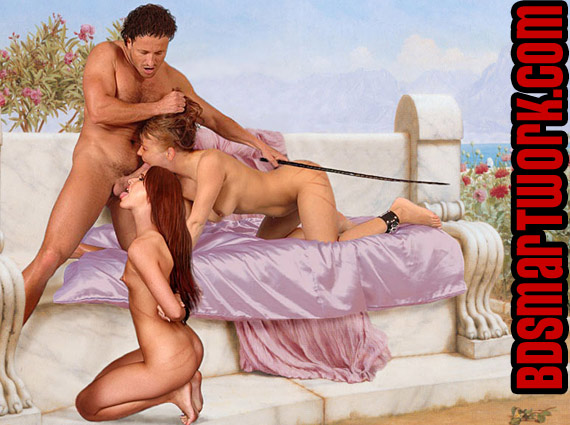 Gargilius grabbed a handful of hair and pulled the mother's mouth down over his cock. He slammed in and out of her as her red-haired daughter knelt nearby and wept. Suddenly, Gargilius drove his prick so deep into the mother's mouth that his balls slapped wetly against her chin. She gagged hard and vomited over the length of Gargilius' pummeling member.
"You'll have to do better than that you stupid bitch," Gargilius roared, "unless you want your pretty daughter to see her mother fed to my crocodiles. They will rip your flesh and break your bones. The last thing you'll ever see besides their gaping mouths and countless teeth, will be the sight of your daughter swallowing my cum."
Gargulius grabbed the red headed daughter and forced her into his crotch.