Wild West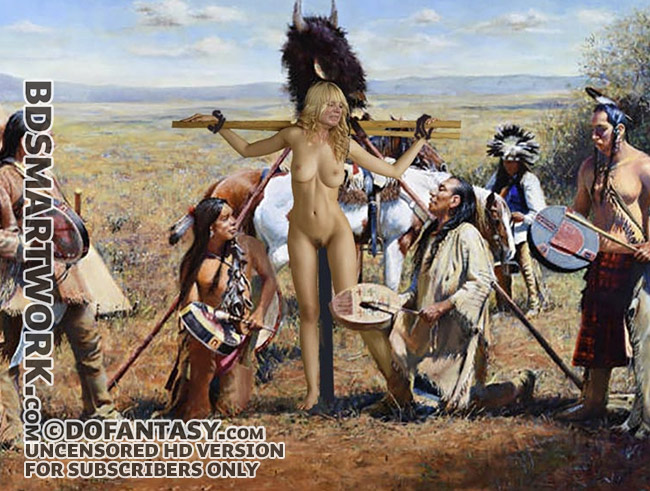 Then they turned the brunette over onto her back and they turned to the redhead.
"Lick your friend! Lick her cunt!" they ordered. The redhead looked shocked but had little choice. She obeyed, kneeling down and licking her friend's open cunt lips.
"Lift your ass, bitch!"
The redhead obeyed and the fifth man put his bow and arrow down and fucked her in the cunt from behind as she licked…
"Lick, bitch, lick! Lick and suck! Harder! Harder!"
The brunette hated it. But it went on and on for a long time and in the end the redhead's tongue and sucking started to get through to her…
"Oh! NOOO! GASP! Don't! NOOOOOOOOO!!!"
The tribesmen watched, fascinated, as the brunette began to sway gently from side to side. She gasped again. Her nostrils flared and she made soft moaning noises. The noises got louder and more urgent and the warriors took out their cocks and pumped them over the two women.
In the end, despite herself, the woman gave a high-pitched shout and her hips went into hyper-speed. She had a huge orgasm and the noise took the warriors into orgasm too. They shot their spunk over her face and breasts…
"OOOOOOOOOOOOOOOOOOOOOOOOOOOOH!!!"
SPLAT! SPLAT! SPLAT! SPLAT!
The warriors lay on the ground with the women for two hours, licking, sucking and fucking…
Finally they made them stand naked and masturbate for them.
"Touch your cunts! Show us how you cum!"
The girls masturbated for them until they had an orgasm. The men did the same and covered the women with their spunk.
"Go, white bitches! Go tell your men how real men fuck!"