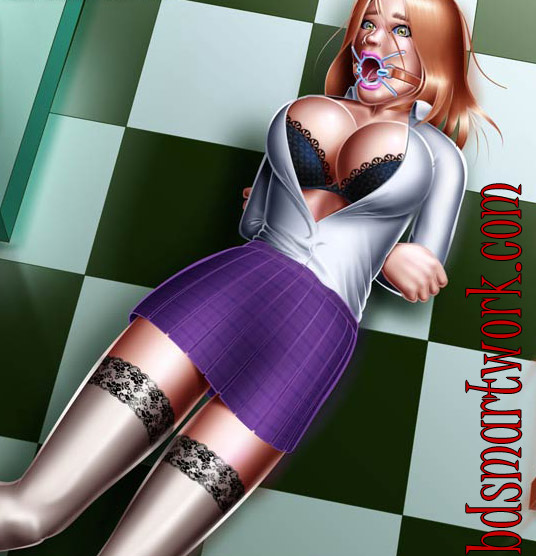 She bolted, bending from the waist as her hand flailed for her mouth. The assaults, sweat, and saliva had loosened the adhesive. Her fingers got under the edge first try. She twisted her torso so her other hand could swing for the front doorknob – dreading that it would be locked. To her astonishment, it wasn't. She ripped off the tape at the same moment she threw open the obstruction. One step and she was outside.
Ms. Swanson's claw was in her hair, the other slamming a small sodden cushion over her nose. Al's arms were around her chest and waist, dragging her back.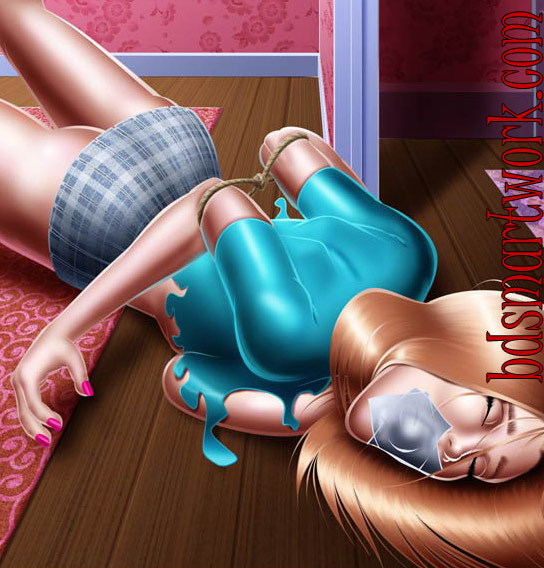 She woke up wearing another schoolgirl outfit, of course. Only this one was super-tight and super short, with all the trimmings. The skirt was a wicked variation of her audition skirt, only even shorter. It hugged her hips, while a fitted, starched white shirt adhered to her curves like a layer of skin … except for her blooming chest, naturally.
There the shirt was forced open by a frilly, scalloped, plunge-front, push up, one-size-too-small, black lace demi bra that molded, bunched, and shoved her tits to the bursting point. Black lace thigh highs molded her legs and her feet were contained and wickedly pointed by red leather ankle-strap pumps with five and a half inch stiletto heels.
Claire moaned, finding a spider-leg-ring-gag strapped into her yawning, jaw-aching mouth.